Whether it's your first honeymoon or you are just trying to take a romantic getaway with your partner, we bring some of the best honeymoon resorts in India that comes with perfect settings. These budget-friendly and perfect resorts are nothing less than fantasy worlds.
Undoubtedly India is one of those best countries which has everything from mountains to Sea. Along with lush forests and white sand sea beaches, it offers amazing food and diverse culture with super friendly people. Surely at first glance, you will be confused with selecting one or some of the best places for your honeymoon so to make it easier we have shortlisted 55 best honeymoon destinations in India. Make sure to select your location first before selecting a resort.
For my first honeymoon, I was too looking for a place in India that offers a mix of romantic settings and unmatched comfort without compromising privacy. These resorts exactly click every point to give you a honeymoon of your dreams. You will have the time of your life here and will not be disappointed by the pack of activities that are hosted here.
Best Honeymoon Resorts In India
1. Oberoi Udaivilas
Location: Udaipur, Rajasthan
Nearby attractions: Lake Pichola, City Palace, and Lake Palace
What We Like: Lakeside dinner
Tariff per night: USD 700 per night onwards
Undoubtedly Udaipur features many romantic retreats, but nothing surpasses the royalty that Oberoi Udaivilas is. The lake resort is perfect from every angle and provides world-class luxury. Set amid gardens and overlooking Lake Pichola, this luxury resort is just 2 km away from the City Palace Museum.
2. Evolve Back
Location: Coorg, Karnataka
Nearby attractions: Dubare Elephant Camp, Coffe Plantation
What We Like: Food & Caring Staff
Tariff per night: USD 425 per night onwards
Located in between mountains and a 162-hectare coffee and spice estate this resort is definitely a place worth visiting. This resort is 19 km from Dubare Elephant Camp by the Kaveri River and 46 km from Nagarhole National Park. The property is full of natural beauty and one of the fun place to be with your family or with your loved one.
3. Park Hyatt Resort and Spa
Location: Cansaulim Beach, Goa
Nearby attractions: Cansaulim Beach, Majorda Beach, and Church of St. Thomas
What We Like: Water Sports
Tariff per night: USD 225 per night onwards
If you are planning for Goa then this one of the best honeymoon resorts to visit. Thanks to the scenic views of the beach, lagoon, and lush gardens, the overall beauty of this resort is fascinating. This resort is 7 km from Three Kings Chapel and 16 km from Goa International Airport.
Also Read:
4. Ri Kynjai Serenity by the Lake
Location: Shillong, Meghalaya
Nearby attractions: Umiam Lake, Elephant Falls, and Shillong Catholic Cathedral Church
What We Like: Lakeview, Food
Tariff per night: USD 130 per night onwards
Set among hills and forests overlooking Umian Lake, this resort is the perfect destination for romantic vacations for couples. Ri Kynjai Serenity By The Lake offers authentic Khasi cuisine, a traditional spa to enjoy with your loved one by your side. Additionally, it assures an enchanting experience for lovebirds with its breathtaking settings. This beautiful honeymoon resort is just 23 km from Shillong Golf Course and Phan Nonglait Park.
5. The Windflower Resort & Spa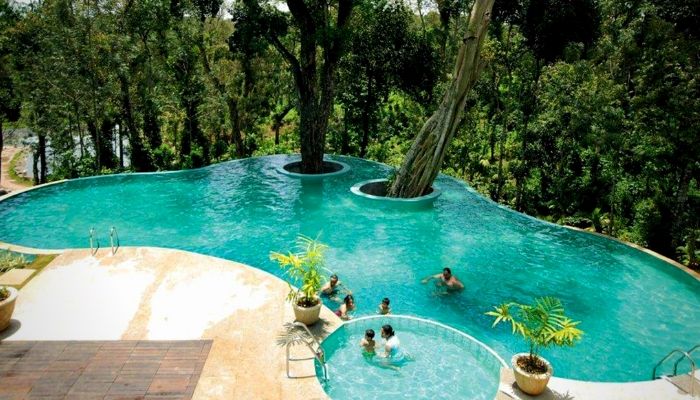 Location: Coorg, Karnataka
Nearby attractions: Nagarhole National Parks and Abbey Waterfalls
What We Like: Food, Spa
Tariff per night: USD 170 per night onwards
Set on 10 hectares of a coffee plantation Windflower Coorg has a glistening lake, private waterfalls, an outdoor infinity pool. Additionally, it offers a refreshing spa that promises a rejuvenation staycation with your partner. The panoramic views of lush green hills further make it one of the best honeymoon resorts in India.
6. Marari Beach Resort
Location: Alappuzha, Kerala
Nearby attractions: Marari Beach, backwaters
What We Like: Seafood
Tariff per night: USD 300 per night onwards
Set on a sprawling property with lotus ponds and coconut groves, this serene beachfront resort is the perfect place for you and your partner to spend a holiday together. It offers tropical-themed cottages that come with a minibar, a sitting area, and a terrace.
7. Treetop Riverview Resort
Location: Jim Corbett National Park, Merchula, Uttarakhand
Nearby attractions: Jim Corbett National Park
What We Like: Mountain Views
Tariff per night: USD 70 per night onwards
Treetop Riverview Resort is situated in Jim Corbett National Park, Uttarakhand which is one of the most beautiful states in the Himalayan North of India. This resort offers some of the stunning views of the mountains and hosts a large outdoor swimming pool to full fill your swimming desire.
8. Le Pondy Beach Resort, Pondicherry
Location: Nallvadu, Pudukuppam, Puducherry
Nearby attractions: Pondicherry Museum, Beach
What We Like: Private beach
Tariff per night: USD 150 per night onwards
In thatched-roof buildings spread across 6 hectares of gardens, this luxe beachfront resort is 12 km from the Basilica of the Sacred Heart of Jesus and Immaculate Conception Cathedral, and 13 km from Pondicherry Museum. This place offers a private beach, well-maintained cottages, swimming pool, and ping pong table.
The Bottom Line
If you are all set for your honeymoon then these best honeymoon resorts in India can be the perfect place for a memorable experience. From the spa to private pool these romantic honeymoon resorts definitely help you spend a relaxing time with your partner while indulging in the serenity of these places.